It's been a while since I gave an update on the bun in my oven (especially since I somehow managed to keep up with weekly and monthly pregnancy updates with the last two) so I figured I may as well share what he/she and I have been up to the last 8 weeks.
That's right. We still haven't found out our little sweet potato's gender. I was quite proud of myself for making it through our 20 week ultrasound without peeking at the goods. The tech was super speedy when scoping out that general 'area' so it would have been a quick glance anyway. I did have to remind my mother that there was no peeking aloud, which she begrudgingly respected. The rest of the scan was great, however longer than I remember the others being, and baby looked practically perfect (in every way). BP3-0 was a little stubborn in giving us a profile shot but we got some good ones, including a few with his/her hand up by his/her ears (just like big bro) and some impressively long feet (just like big sis). I'm still lacking any kind of gut feeling as to boy or girl and K isn't helping by continuing to switch back and forth on what she thinks I'm having.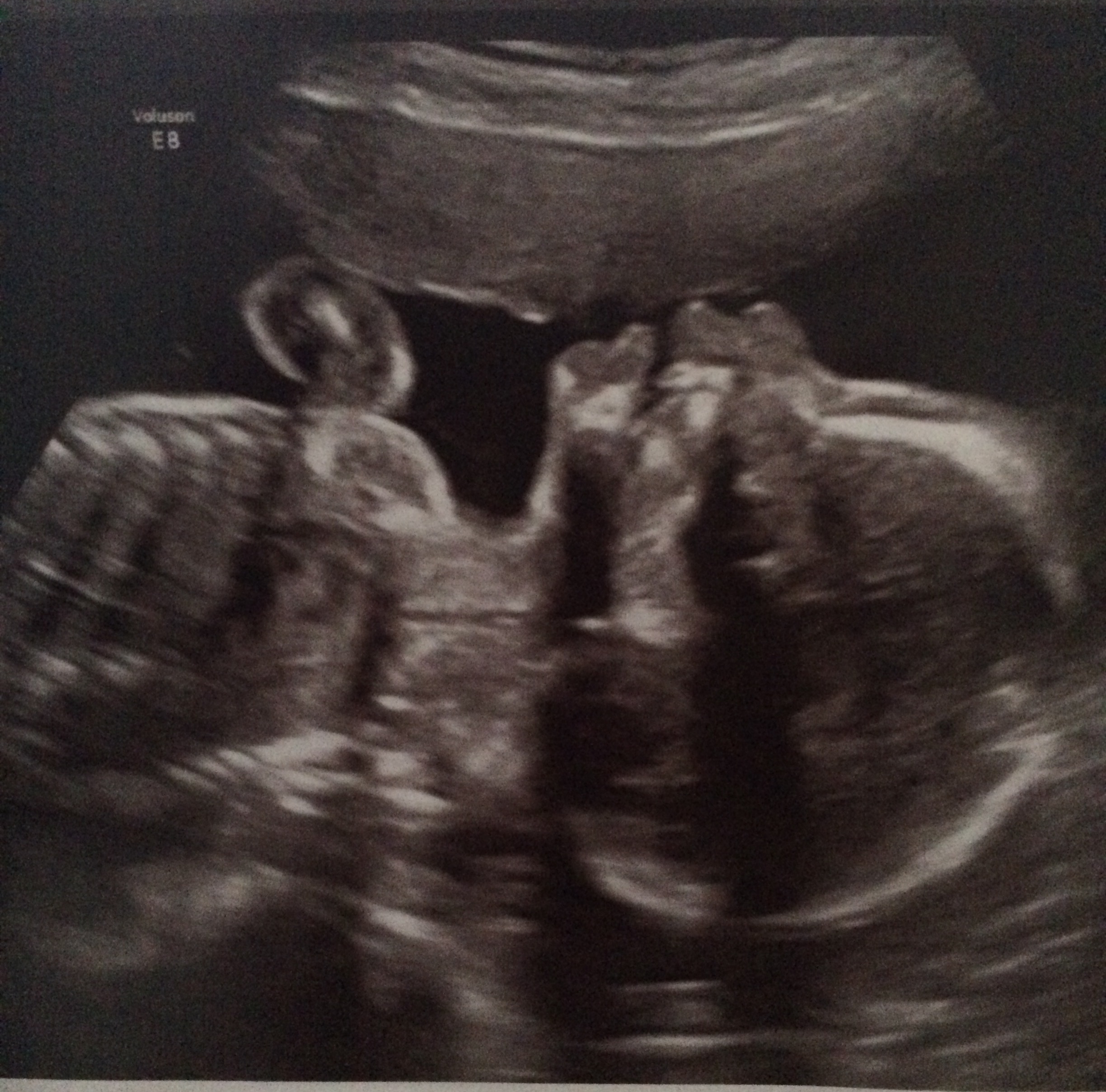 I am happy and greatly relieved to say that I've finally gotten out of the horrible migraine, nausea and extreme food aversion stage. It stuck with me until about 20 weeks so I'm now reveling in the long-awaited feel-good part of pregnancy! I can eat pretty much anything without feeling errpy (except for when I tried to add spinach to my scrambled eggs a few days ago... gag city) and my recent growth, both in weight and bump size, are proof! At my 24 week check up my midwife kept commenting on how much my belly had grown since last seeing me, and how active baby was as we both watched my belly bounce all around! I measured closer to 26 weeks than 24 which is definitely a shift for me considering my last two pregnancies I consistently measured small. So either this baby will be huge, this baby will come early, or this baby has soaked up all the food I've finally been able to eat and I just need to catch up with myself. We shall see! For now I'm trying to focus a lot more on my nutrition to make up for what I missed in those early months. I'm looking forward to warmer weather (for many reasons) so I can start tossing back some smoothies with hidden greens and protein!
Another difference in this pregnancy has been the unexpected hip and pelvic pain. I dealt with a little round ligament pain before and some slight discomfort in my hips in the last weeks but nothing like this, so focused on my pelvic bone and hips. It comes and goes and I'm finding relief where I can but as baby grows it's feeling more and more like SPD (Symphysis Pubis Dysfunction). It's making me feel like I'm much further along than I am, and it's messing with my head a little, but I'm happy to endure a little discomfort here and there in place of feeling so sick and gross like before. However the times when it feels like my pelvis is going to break in half are definitely not fun.
My Braxton Hicks contractions are in full swing and giving me some great opportunities to practice relaxation. They say teachers make the worst students and I've been a prime example of that this time around when it comes to following my own instruction for labor prep. I've been slacking on a lot of my exercises, due in part to the SPD, but am thankful for these little practice contractions to help me get back on track.
That covers just about everything new with BP3-0! I haven't kept up with my bump photos like I did before (sorry baby #3) but I did realize that I took a 26 week bump pic from both pregnancies so I thought what better way to show my bump off this week than with a little comparison collage?
Oh how tan and youthful (and apparently more focused on framing the picture than on smiling) I was during that first pregnancy. This mama needs some SUNSHINE, stat! Any gender guesses out there?
And for something a little different I thought I'd join a cute little What I Wore Sunday link up from A Blog For My Mom. I haven't done a link up in forever and probably won't have the discipline to do this every week (maybe!) but yesterday I was finally able to wear a particular sweater dress that has been taunting me from my closet for about 3 weeks now so I thought I'd share finally wearing it to mass.
Me: Since the last few Sunday's have been oddly warm (I am not complaining about warm weather... BRING ON SPRING... ) I haven't been able to wear this beautiful sweater dress from Mossimo Supply Co. It was lent to me by my dear friend Layna (remember her daughter's beautiful birth story) and it's so soft and cozy and pretty. I'm obsessed. I paired it with some black leggings from Motherhood Maternity and suede Timberland boots.
K: Grey sweater dress is from H&M kids, white tights and boots from Target, Frozen ribbon bow was a gift from our neighbor.
HG: Plaid button-up is from Children's Place but may have been a hand-me-down or consignment find. Red corduroy pants from H&M kids, shoes are Garanimals from WalMart.
Sorry for no links - everything has shifted over to spring so nothing is listed on the websites anymore. At least I can give credit where it's due! Feel free to join in next week with the WIWS link up - I'll try to do the same!